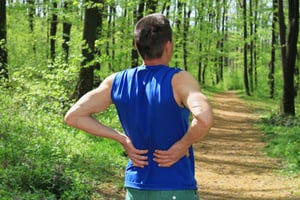 For decades, discectomy surgery has been the surgical gold standard for relieving leg pain caused by a lumbar disc herniation. The procedure itself proves very effective, generating an approximately 84 percent1 overall success rate. However, like any surgery, it's not without risks, and not all patients carry the same risk level.
Reherniation is the most common complication after lumbar discectomy. In fact, 7-18 percent2 of discectomy patients experience recurrent disc herniation. If you're considering a discectomy to reduce your pain and get back your daily life, the risk of reherniation and repeat surgery is certainly a concern—fortunately, there are ways to minimize the likelihood of recurrence.
Below, we break down the primary risk factors that lead to reherniation and proactive ways to prevent it from occurring and minimizing the need for repeat surgery.
Common Risk Factors That Can Lead to Reherniation
Reherniation can lead to3 the need for repeat operations, which are typically not as successful as the initial procedure. Some of the common risk factors for reherniation include the following:
Activity Level
Patients living a sedentary lifestyle may be more likely to encounter poor outcomes. When our muscles are inactive for long periods of time, they become tense and stiff, which is thought to impede discectomy recovery.
Body Mass Index (BMI)
Overweight herniated disc patients are more likely to require revision procedures. From a study of 226 patients4 across different weight ranges, the two-year risk for revision procedure was 1.8 percent for normal-weight patients, 12.5 percent for overweight patients, 9.1 percent for obese patients, and 25 percent for morbidly obese patients. In other words, the greater the BMI, the higher the risk of reherniation and repeat surgery.
Age
Like many other conditions age can play a factor in the likelihood of reherniation. While studies show mixed results, younger patients are believed5 to be at increased risk of needing revision surgery for a reherniation.
Tobacco Use
Smoking has proven to increase reherniation rates time and time again. It not only accelerates disc degeneration, but also interferes with tissue healing after surgery. A study revealed that patients who were smoking at the time of surgery had a 50 percent higher6 recurrence rate in contrast to non-smokers. As a result, it's believed that smoking cessation may significantly reduce7 the incidence of recurrent lumbar disc herniation after discectomy.
Diabetes
Multiple studies have shown that diabetic patients are at a higher risk when it comes to reherniation after a discectomy surgery. One study found that patients with uncontrolled diabetes had twice the recurrence rate8 after discectomy than those without.
Large hole in the disc
Patients with a large hole (6mm or wider) in the outer ring of the disc, also known as an annular defect, are at a significantly greater risk of reherniation and recurring symptoms compared to those with small holes. Based on recent research, discectomy patients have a one-in-three9 chance of having a large annular hole in his or her disc.
Amount of Removed Disc Material
Your spine surgeon must decide whether to perform a limited or more aggressive discectomy. In an aggressive discectomy, the surgeon removes any free disc material as well as material from within the disc itself. On the other hand, a limited discectomy involves only removing any free disc fragments that are outside the disc without entering the disc space to remove additional material.
There are pros and cons to both approaches. A limited discectomy approach leads to a higher risk of reherniation10 when compared to a more aggressive removal of disc. That said, an aggressive discectomy can deflate the disc, resulting in loss of disc height over time (disc collapse), ultimately causing stiffness, pain and instability. Your surgeon can make an expert recommendation on the best treatment pathway for you.
How to Prevent Reherniation After Discectomy
While the risk of reherniation may be anxiety-inducing, it doesn't have to prevent you from having your discectomy surgery to relieve debilitating pain. Along with cutting back on known risk factors like smoking, there are other steps you can take to prevent reherniation and the burden of repeat surgery.
Research shows11 that in patients with large holes in the disc, implantation of a bone-anchored annular closure device greatly reduces the risk of reherniation and the return of symptoms. One recent study12 found that the use of an annular closure device resulted in a 50 percent risk reduction when it comes to reherniation, reoperation, and complications.
The Barricaid device is specifically designed for patients with larger holes in their annulus, significantly improving the odds of a better discectomy outcome. It allows your spine surgeon to perform a less aggressive discectomy, preserving as much of your disc as possible and reducing the reherniation risk.
Next Steps
If you're considering discectomy surgery to relieve pain from a herniated disc, it's completely understandable that you may have concerns about the risk of reherniation. Being aware of risk factors and exploring the possibility of an annular closure device may decrease the likelihood of reherniation, recurring symptoms, and the need for surgery.
Interested in understanding how Barricaid may help improve your discectomy outcome? Take our assessment to learn whether or not you're a likely candidate for an annular closure device.
While this blog is meant to provide you with information you need to make an informed decision about your treatment options, it is not intended to replace professional medical care or provide medical advice. If you have any questions about the Barricaid, please call or see your doctor, who is the only one qualified to diagnose and treat your spinal condition. As with any surgical procedure, you should select a doctor who is experienced in performing the specific surgery that you are considering.
If you have any questions about Barricaid, you may ask your doctor. For additional information, please visit www.barricaid.com. For complete risk-benefit information: www.barricaid.com/instructions-for-use.
References:
1 George J. Dohrmann and Nassir Mansour, "Long-Term Results of Various Operations for Lumbar Disc Herniation: Analysis of Over 39,000 Patients," Med Princ Pract 24, no.3 (2015): 285-290, doi: 10.1159/000375499.
2 Eugene J Carragee et al, "A Prospective Controlled Study of Limited Versus Subtotal Posterior Discectomy: Short-Term Outcomes in Patients With Herniated Lumbar Intervertebral Discs and Large Posterior Annular Defect," Spine 31, no. 6 (2006): 653-657, doi: 10.1097/01.brs.0000203714.76250.68; Gianna L. Ambrossi et al, "Recurrent Lumbar Disc Herniation After Single-Level Lumbar Discectomy: Incidence and Health Care Cost Analysis," Neurosurgery 65, no. 3 (2009): 574-578, doi: 10.1227/01.NEU.0000350224.36213.F9; Matthew J. McGirt et al, "A Prospective Cohort Study of Close Interval Computed Tomography and Magnetic Resonance Imaging After Primary Lumbar Discectomy: Factors Associated with Recurrent Disc Herniation and Disc Height Loss," Spine 34, no. 19 (2009): 2044-2051, doi: 10.1097/BRS.0b013e3181b34a9a.
3 Peter D. Klassen et al, "Post-Lumbar Discectomy Reoperations That Are Associated with Poor Clinical and Socioeconomic Outcomes Can Be Reduced through Use of a Novel Annular Closure Device: Results from a 2-Year Randomized Controlled Trial," ClinicoEconomics and Outcomes Research 10 (2018): 349-357, doi: 10.2147/CEOR.S164129.
4 Daniel D. Bohl et al, "Does Greater Body Mass Index Increase the Risk for Revision Procedures Following a Single-Level Minimally Invasive Lumbar Discectomy?" Spine 41, no. 9 (2016): 816-821, doi: 10.1097/BRS.0000000000001340.
5 Robert Abdu et al, "Reoperation for Recurrent Intervertebral Disc Herniation In The Spine Patient Outcomes Research Trial: Analysis of Rate, Risk Factors and Outcomes," Spine 42, no. 14 (2017): 1106-1114, doi: 10.1097/brs.0000000000002088.
6 Mesut E. Yaman et al, "Factors That Influence Recurrent Lumbar Disc Herniation," Hong Kong Medical Journal 23, no. 3 (2017): 258-263, doi: 10.12809/hkmj164852.
7 Shinji Miwa et al, "Risk Factors of Recurrent Lumbar Disk Herniation: Clinical Spine Surgery," Journal of Spinal Disorders and Techniques 28, no. 5 (2015): E265-269, doi: 10.1097/BSD.0b013e31828215b3.
8 Mesut E. Yaman et al, "Factors That Influence Recurrent Lumbar Disc Herniation," Hong Kong Medical Journal 23, no. 3 (2017): 258-263, doi: 10.12809/hkmj164852.
9 Larry E. Miller et al, "Association of Annular Defect Width After Lumbar Discectomy With Risk of Symptom Recurrence and Reoperation: Systematic Review and Meta-Analysis of Comparative Studies," Spine 43, no. 5 (2018): E308-E315, doi: 10.1097/BRS.0000000000002501.
10 William C. Watters and Matthew J. McGirt, "An Evidence-Based Review Of The Literature On The Consequences Of Conservative Versus Aggressive Discectomy For The Treatment Of Primary Disc Herniation With Radiculopathy," The Spine Journal 9, no. 3 (2009): 240-257, doi:10.1016/j.spinee.2008.08.005.
11 Larry E. Miller et al, "Expert Review with Meta-Analysis of Randomized and Nonrandomized Controlled Studies of Barricaid Annular Closure in Patients at High Risk for Lumbar Disc Reherniation," Expert Rev Med Devices 17, no. 5 (2020): 461-469, doi: 10.1080/17434440.2020.1745061.
12 Claudius Thomé et al, "Annular closure in lumbar microdiscectomy for prevention of reherniation: a randomized clinical trial," The Spine Journal 18, no. 12 (2018): 2278-2287, doi: 10.1016/j.spinee.2018.05.003.