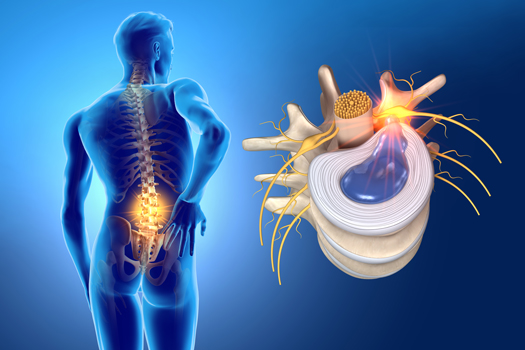 Herniated discs are fairly common, and so is spontaneous recovery. In fact, a cumulative study published in 2017 determined nearly 70 percent of herniated discs recover spontaneously. This is good news if you are facing the prospect of having back surgery, but there is always the possibility of other issues with the spinal disc that require attention. One of these is reabsorption. This article explains why this might happen.

What Is Spontaneous Reabsorption?

Reabsorption is when disc material goes back into a herniated disc (also commonly known as a "slipped disc" or "ruptured disc"). There are four main ways spinal discs can spontaneously reabsorb material:

• Retraction
• Dehydration
• Inflammatory mediation
• Rapid spontaneous reabsorption*

*This is more likely to affect larger spinal discs

Quick reabsorption of spinal disc material is more likely to occur during the early stages of recovery after a discectomy or microdiscectomy. While reabsorption is never pleasant to deal with post-surgery, it is actually a good thing that this occurs during the early stages of recovery, since this is when patients are usually more careful. If any related symptoms are discovered during this time, they can be dealt with accordingly.

How to Tell if Spontaneous Absorption Occurs

You may not realize spontaneous absorption has occurred at all. In fact, this is a good sign, since it means whatever was left of the spinal disc material is no longer an issue. Instead, it has been drawn back inside the affected part of the structure. There is the possibility that the spinal disc could become a bit unstable, although this usually is not an issue for most patients. You may also no longer need surgery if the reabsorption occurs prior to the scheduled procedure.

What Spontaneous Absorption Means for Patients

There is a reduced risk of reherniation if disc surgery has already occurred. Reherniation is when the inside material affects another spinal nerve or, in some instances, the same one involved in the initial herniation. If this happens, there may be a need for an additional herniated disc surgery. However, this usually is not the case, since many patients respond well to physical therapy and other conservative forms of treatment.
The only way to tell if spontaneous absorption has occurred is by having tests done. Such tests are likely to be ordered for another reason, which may happen if there are issues with remaining disc material contributing to discomfort.

Keeping Your Spine's Discs Healthy

Spinal discs often heal on their own. There is no way to predict if absorption will occur. Patients can reduce the risk of experiencing issues that may be related to reabsorption or issues that could contribute to reherniation by:

• Following doctor's orders
• Taking proper precautions with returning to work
• Being actively involved in physical therapy
• Drinking plenty of water to avoid disc dehydration

If you have a herniated disc that is not responding to conservative treatment, a discectomy may be the best option. Although this is generally one of the most successful back surgery procedures, patients with a large hole in the outer ring of the disc have a significantly higher risk of reherniation following surgery. Often, the surgeon will not know the size of the hole until he or she begins surgery, and having a large hole in the outer ring of the disc more than doubles the risk of needing another operation. A new treatment, Barricaid, is a bone-anchored device that closes this hole, and 95 percent of Barricaid patients did not undergo a reoperation due to reherniation in a 2-year study timeframe. This treatment is done immediately following the discectomy—during the same operation—and does not require any additional incisions or time in the hospital.
If you have any questions about the Barricaid treatment, ask your doctor or contact us at 844-288-7474.
For full benefit/risk information, please visit: https://www.barricaid.com/instructions.