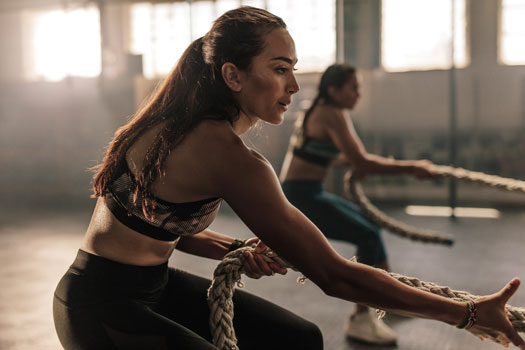 A fun, challenging, and personally rewarding way to get regular exercise is to be involved with sports on a regular basis. However, because many popular sports are also physically demanding, it's not unusual for athletes to have lumbar spine injuries. Today, we're focusing on lower back injuries in athletes while also offering some advice on how to prevent them.
Movements Likely to Affect Athletes' Lower Backs

As the most vulnerable and exposed part of the spine, the lower back area absorbs a lot of stress and strain from your various movements and actions. With sports, running and other activities that involve repetitive strain and activities like tennis or golf that involve twisting tend to contribute more to lumbar spine injuries.
Some of the conditioning and exercise routines common among athletes can also affect the lower back. For instance, weightlifting—especially with improper technique or weights that are too heavy—can put a lot of strain on the lumbar spine. This is also true with workout routines that are fairly demanding and strenuous or ones that involve a lot of bending and repetitive motions.

Sports Most Likely to Involve Lumbar Spine Injuries

According to Healthday.com, cycling is the sports-related activity most likely to contribute to spine-related issues. This is based on a study of more than 10,000 spinal injuries in the United States related to sports. In addition to biking, other sports that tend to involve spine-related injuries that could affect the lower back area include:

• Skiing
• Snowboarding
• Football and other contact sports

Types of Lower Back Injuries Common among Athletes

Disc herniation is one of the most common lower back injuries in general, and it's certainly one that can also affect athletes. A spinal disc may become damaged or dislodged from too much strain in the same spot, a hard fall or blow, or incorrect form and technique.

Golfing, gymnastics, and weightlifting are some of the athletic activities that could result in lower back strains or sprains. These are soft tissue injuries that could irritate the nearby sciatic nerve or make it difficult to move without significant pain.

For athletes, vertebral stress fractures can also affect an overloaded lumbar spine. Stress fractures are small cracks or spinal bone breaks that could reduce spinal stability and increase the risk of serious injuries. These are injuries that may be seen in competitive divers, dancers, gymnasts, or volleyball players.

Preventing & Treating Lumbar Spine Injuries

Paying attention to the form and the technique required for your particular sport is one way to reduce your risk of lower back injuries. Athletes can also achieve this goal by:

• Doing proper warm-ups before getting active
• Focusing on core exercises to strengthen back-supporting muscles
• Getting sufficient rest
• Knowing when to take breaks
• Addressing minor back-related aches and pains sooner rather than later

If you're an athlete and you're experiencing sciatica or lower back pain, see what your doctor has to say so you can get an accurate diagnosis. Treatment often involves physical therapy and other nonsurgical remedies. If a lumbar spine disc is affected, surgery may become an option if other treatments aren't effective.
If your sciatica lower back pain is severe and long-lasting, your doctor may recommend surgery to provide relief. For example, if you have a herniated disc that isn't responding to conservative treatment, a lumbar discectomy may be the best option. Although this is generally a very successful procedure, patients with a large hole in the outer ring of the disc have more than double the risk of reherniation and may need another operation following surgery. Often, the surgeon won't know the size of the hole until he or she begins surgery. A new treatment, Barricaid, closes this hole, and 95 percent of Barricaid patients didn't undergo a reoperation due to reherniation in a 2-year study timeframe. This treatment is done immediately following the discectomy—during the same operation—and doesn't require any additional incisions or time in the hospital.
If you have any questions about the Barricaid treatment, ask your doctor or contact us at 844-288-7474.
For full benefit/risk information, please visit: https://www.barricaid.com/instructions.