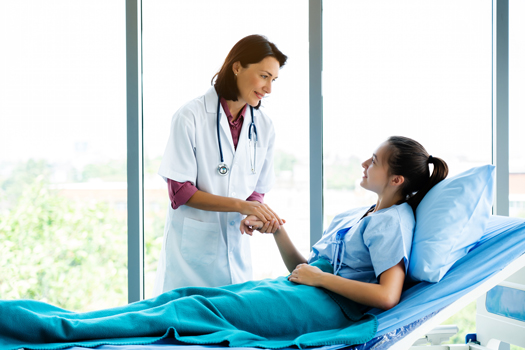 Largely due to advances in technology and surgical techniques, spine surgery generally has a higher success rate today than what was once common. It is also becoming commonplace for frequently performed procedures to be done on an outpatient basis when it is possible to do so. This article discusses whether this applies to a discectomy and the factors that determine what is recommended.
Outpatient Discectomies Are Common Today

Since minimally invasive techniques are often used when a discectomy is performed, patients typically go home the same day. When this is the case, patients usually remain at the surgery center or medical facility for at least a few hours until the anesthesia has fully worn off.
Outpatient surgery is more common with a microdiscectomy. This is a variation on a traditional discectomy performed with smaller incisions and specialized instruments. These tools are used to remove only the part of the disc affecting an adjacent nerve. This approach to a discectomy minimizes stress on the body and disruption to nearby structures and tissues.

An Overnight Stay May Sometimes Be Necessary

A discectomy is more likely to require at least an overnight stay if an open procedure is performed. This is when a larger incision is made to access the affected disc. In addition, some patients may need to be supervised overnight if they have underlying health issues or there are any concerns that require additional monitoring.

Inpatient Care Is Common if a Fusion Is Needed

Because the entire disc is usually not removed during a discectomy, a fusion procedure is not likely to be necessary. A fusion is a surgical technique that joins two or more vertebrae, and it is more likely to be recommended if a significant amount of disc material or the entire disc is removed. Since this is a more involved process, patients who are having discectomies coupled with spinal fusion surgery are often hospitalized for a day or two. Part of the reason is because patients are usually required to be able to walk on their own before being discharged. There is also a need for more careful patient monitoring when two procedures are performed together.

Patient-Specific Needs Are the Deciding Facto

Whether or not a discectomy is performed as an outpatient procedure is largely dependent on patient-specific factors. The first factor is the symptoms caused by the affected disc and where it is located. If it is fairly easy to access the lower back area and there are no significant underlying health concerns, the surgeon will most likely use minimally invasive techniques, which often means outpatient surgery. Additional factors typically taken into consideration when determining how a discectomy is performed include:

• The type of anesthesia that will be used
• How much disc material will need to be removed
• How well spinal stability is likely to be preserved
Although discectomy surgery is a common and generally quite successful procedure, patients with a larger hole in the outer ring of the disc have a significantly higher risk of herniation following surgery. This risk is doubled if there is a large hole in the outer ring of the disc. Fortunately, there is a new treatment specifically designed to close the large holes that are often left in spinal discs after discectomy surgery. Barricaid is a bone-anchored device proven to reduce reherniations, and 95 percent of Barricaid patients did not undergo a reoperation due to reherniation in a 2-year study timeframe. This treatment is performed immediately following the discectomy—during the same operation—and does not require any additional incisions or time in the hospital.
If you have any questions about the Barricaid treatment or how to get access to Barricaid, ask your doctor or contact us at 844-288-7474.

For full benefit/risk information, please visit: https://www.barricaid.com/instructions.