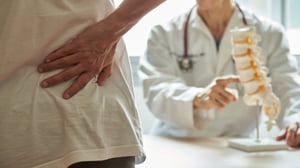 You've been struggling with leg pain, and your doctor has found the culprit: a herniated disc in your low back. Perhaps you have tried exercises or other therapies to relieve your pain, only to be disappointed by lackluster results.
If that's the case, spine surgery—a lumbar microdiscectomy, to be exact—may be the best option to correct the problem and relieve your pain. Now with the possibility of spine surgery in your future, you're wondering what to expect in terms of risks, recovery, and results.
We'll break down all you need to know to prepare for your lumbar discectomy surgery and get back to an active life without pain.
What exactly is a discectomy?
Discectomy is a common type of spine surgery to repair a herniated disc, also known as a slipped or ruptured disc. The discs are the cushions of the spine between the spinal bones that function as shock absorbers. Disc herniation occurs when the softer inner portion of the disc (the nucleus) breaks through a hole in the outer portion of the disc due to excessive pressure, sometimes equaling 10 times that of a standard car tire1.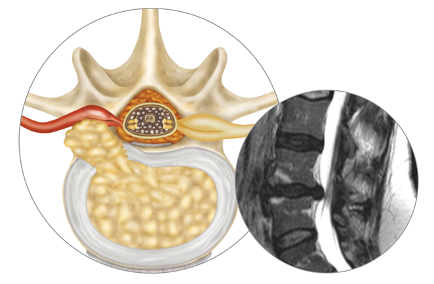 Lumbar herniated disc
When a lumbar disc herniates, it puts substantial pressure on the surrounding nerves, ultimately resulting in symptoms that include:
Shooting pain (known as sciatica or radiculopathy)
Numbness or tingling in the legs
Weakness or loss of muscle control
Lower back pain
Herniated disc symptoms usually come on fast and can worsen over time, though each person's experience is unique and dependent on the level of herniation and overall health.
A discectomy may be suggested when nonsurgical treatment options like physical therapy and medication fail to relieve symptoms, or in the case of bowel or bladder dysfunction, significant leg weakness or intractable pain. During a discectomy, your spine surgeon will reach the herniated disc from the back of your spine, creating a corridor through muscles and bone, and gently moving the spinal nerve aside. The surgeon often creates a window in the lamina (a bone along the back of the spinal canal) to access and remove the herniated disc.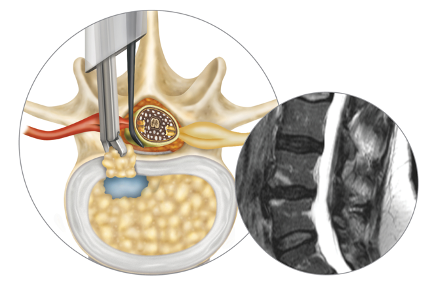 Lumbar discectomy surgery
Two different surgical approaches exist: aggressive and limited discectomy (or microdiscectomy). Aggressive discectomy involves removing the herniated disc material as well as most of the soft disc inside of the thick outer layer. Limited discectomy, a more conservative approach, involves simply removing any herniated disc fragments that are outside the disc without probing the nucleus pulposus (inner core of the disc) or annulus fibrosus (protective exterior of the disc) for additional problematic disc material. Your spine surgeon can recommend the best treatment pathway for you based on your spinal anatomy and the size of the holes in your herniated disc.

Research shows that good results are achieved in around 84 percent of patients2 who are seeking to relieve sciatica secondary to a lumbar disc herniation with a discectomy surgery. Success rates are generally very high, with the majority of patients experiencing complete pain relief and few complications.
What are the potential risks?
While most discectomies have a positive outcome, no surgery is completely without risks. Some of the potential risks include:
Nerve damage
Bleeding
Infection
Incision Pain
Spinal fluid leak
Reherniation
Reherniation is the most common risk following discectomy and may result in the need for repeat surgery.
Although aggressive disc removal correlates with a reduced reherniation rate3 relative to limited discectomy, it can still lead to reherniation in some cases. It can also result in increased loss of disc height over time, ultimately causing stiffness, back pain, and /or leg pain. On the other hand, a conservative or limited discectomy has nearly double the risk4 of reherniation in comparison to the aggressive approach.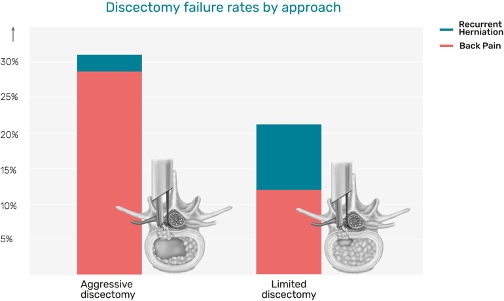 A published meta-analysis shows discectomy failure rates by approach
The risk increases dramatically when large holes exist in the disc. In fact, 1 in 4 discectomy patients5 (or 25 percent) with large holes experience reherniation and renewed pain. This can lead to the need for repeat surgery, which is stressful, inconvenient, and often results in worse clinical outcomes and dissatisfaction.
When annular holes (a rip or tear in the outer layer of the intervertebral disc) of approximately 6mm or larger are present, many patients benefit from Barricaid. This annular closure device is designed to permanently block the hole, preserve disc material, permit unconstrained movement of the disc, and reduce the risk of future herniations. The results speak for themselves. In fact, recent studies show that Barricaid patients benefit from a 60 percent reduction6 in reoperations for repeat herniation.

Barricaid device size: 8 or 10mm, depending on width of defect


What is discectomy recovery like?
Most people return home on the same day of a discectomy. Recovery time varies from 1-4 weeks, depending on the severity of the disc herniation and your overall health. In most cases, people return to work in 2-4 weeks as long as their work is not physically strenuous; however, if your job requires heavy lifting or operating machinery, you may need to wait for closer to eight weeks or longer.
Your doctor will provide aftercare instructions to aid in your recovery. Following those instructions is essential and can make all the difference when it comes to your results. During recovery from your spine surgery, you'll need to restrict your daily activities for the first few days and avoid anything strenuous.
Spine surgery is a big deal, and it goes without saying that you're going to have questions and concerns before the procedure. That said, with the right surgeon and approach, you can return to living an active, painless life—and never look back.
While this blog is meant to provide you with information to support your well-being while considering or waiting for spinal surgery, it is not intended to replace professional medical care or provide medical advice. If you have any questions about the information given, please ask your doctor, who is the only one qualified to diagnose and treat your pain and spinal condition.
If you have any questions about Barricaid, you may ask your doctor. For additional information, please visit www.barricaid.com. For complete risk-benefit information: www.barricaid.com/instructions-for-use.
References:
1 Alexander R. Vacarro et al, The Spine: Medical and Surgical Management (New Delhi: Jaypee Brothers Medical Publishers, 2019).
2 Eric Elowitz, "Microdiscectomy Spine Surgery: Risks, Complications, and Success Rates," Spine Health, Vertias Health, 2016, https://www.spine-health.com/treatment/back-surgery/microdiscectomy-spine-surgery-risks-complications-and-success-rates.
3 Thomas Kosztowski and Ziya Gokaslan, "Determining the Extent of Lumbar Discectomy in Patients with Herniated Lumbar Discs," Insights in Neurosurgery, Insight 4 Medical Publishing, 2015, https://neurosurgery.imedpub.com/determining-the-extent-of-lumbar-discectomyin-patients-with-herniated-lumbar-discs.php?aid=8269.
4 ibid.
5 Frederic Martens et al. "Patients at the Highest Risk for Reherniation Following Lumbar Discectomy in a Multicenter Randomized Controlled Trial," JB & JS Open Access 3, no. 2 (2018): doi: 10.2106/JBJS.OA.17.00037.
6 Claudius Thomé et al, "Annular closure in lumbar microdiscectomy for prevention of reherniation: a randomized clinical trial," The Spine Journal 18 (2018): 2278-2287, doi: 10.1016/j.spinee.2018.05.003.