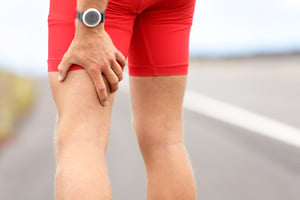 You're considering a discectomy surgery to relieve symptoms of a herniated disc, and you're that much closer to getting rid of your pain and back to your life. Now there's only one task at hand: managing your leg (and potentially lower back) pain leading up to your discectomy.
Leg pain, tingling, burning, numbness, and weakness are common herniated disc symptoms referred to as sciatica or radiculopathy. Sciatica impacts around 1-2 percent of all people,1 usually between the ages of 30-50. Any condition2 that structurally impacts or compresses a nerve in the low back has the ability to cause these symptoms; however, lumbar disc herniation causes around 90 percent3 of sciatica cases.
Despite the pain that comes with sciatica from a herniated disc, the right nonsurgical treatment options can go a long way in improving your symptoms if you need to wait for surgery.
5 Ways to Manage Leg Pain Before Your Discectomy
Here are some steps you can take to keep your leg pain at bay until you're ready to have spine surgery.
1. Exercise
Studies have shown4 that staying active is much better for your mobility than staying in bed, which can cause stiff joints and weak muscles. If you're struggling to remain active, your spine surgeon may recommend physical therapy to reduce pain and prevent future damage from occurring.
But physical therapy isn't the only option to keep it moving before your discectomy surgery. Several exercises and stretches5 you can do at home have been proven to effectively relieve sciatica symptoms, strengthen the core, and improve flexibility in the spine. Keep in mind that none of the exercises or stretches you do should cause increased pain.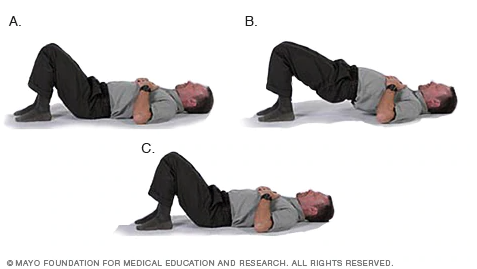 Bridge exercise
There are a few exercises and stretches you should avoid6 if you're struggling with leg pain from a herniated disc. For example, standing hamstring stretches (essentially standing, bending forward, and reaching for your toes) places a lot of unnecessary stress on the spine. Deadlifts and similar techniques are also too aggressive and will likely cause a significant amount of compression at the disc—which is exactly where sciatica is stemming from in the first place!
Weight loss resulting from exercise is also a great way to combat leg pain leading up to spine surgery. Being overweight can cause issues with the spine, especially if you're overweight with a herniated disc, which can cause nerve damage and an increase in pain.
In addition, quitting smoking can help maintain disc health and reduce inflammation. Research shows that smoking increases chronic back pain7 and contributes to additional problems with bone healing.
2. Pain Medication/Injections
Over-the-counter pain medications such as aspirin, acetaminophen, and nonsteroidal anti-inflammatory medications (NSAIDs) like ibuprofen and naproxen sodium can relieve mild to moderate pain from a herniated disc. Along with relieving pain, NSAIDs help reduce swelling and inflammation that occurs as a result of lumbar disc herniation. By treating inflammation with NSAIDs, you can reduce swelling and resulting pain at the same time.
In addition to over-the-counter medications, your spine surgeon may recommend a short round of prescription pain relievers to help you manage painful symptoms and stay as active as possible leading up to your discectomy surgery. However, if you're prescribed a narcotic, try to use it sparingly because patients who take fewer opioid medications before surgery tend to have improved results. If your pain is significant, your doctor might also suggest short-term corticosteroids taken orally for the spine. Peri-radicular infiltration, injection therapy or trigger point injections for local effects on the nerve root may reduce sciatica pain for a period of time, allowing people to go about their day with fewer restrictions.
Steroid injections reduce inflammation in the herniated disc area, ultimately calming the irritated nerve and relieving pain. While useful for pain control, it's important to keep in mind that medications and injections do not fix a herniated lumbar disc.
3. Relaxation
While staying on the move is important, so is getting the right amount of rest and relaxation. With severe pain, the best course of action is to lie down in a position that puts as little strain on your spine as possible. Research suggests8 that many find the "psoas" position comfortable, which consists of lying on your back with your legs on a raised platform and knees bent at a 90-degree angle. A Zero Gravity chair can help create this position and take pressure off your back.
Meditation and massage are also two treatment options that can provide comfort. A variety of massage techniques can relax stiff muscles and ease tension. Although there is no clinical proof to support that massage relieves sciatica pain, many people dealing with herniated disc discomfort find it relaxing and enjoyable. Additionally, massage delivers more oxygen and nutrients to affected muscles.
4. Acupuncture
Acupuncture, which derives from traditional Asian medicine, involves inserting fine needles into certain trigger points on the body to relieve pain. Scientific evidence to support acupuncture for pain management is growing, and many patients report finding relief after seeking this approach. One study found that acupuncture and exercise resulted in a 54 percent reduction9 in overall pain intensity.
Acupuncture works by targeting specific trigger points that relate to nerve pathways impacted by a herniated disc. This, in turn, stimulates healing, increases blood flow to the impacted area, and prompts the release of endorphins, which serve as the body's natural pain relievers.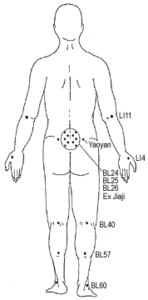 Acupuncture points used in study.
Points are labeled according to World Health Organization standards.
5. Heat and Cold Therapies
Applying hot and cold packs can help manage leg pain caused by irritated nerves due to disc herniation. Heat loosens tight muscles that cause spasms, increases blood flow, and improves the elasticity of your connective tissue. On the other hand, cold therapy has an analgesic and anti-inflammatory effect, reducing swelling in the affected area and thus relieving leg pain.
Finding Lasting Relief from Chronic Leg Pain
You may still be considering spine surgery or waiting for your scheduled surgery date, but that doesn't mean you have to suffer in silence. With these tips in mind, you'll know how to effectively manage leg pain in the weeks or months leading up to your discectomy. As part of your procedure preparation, take this quick symptom assessment to see if you may be a candidate for the Barricaid device, which can reduce your risk of reherniation by 50 percent.
While this blog is meant to provide you with information to support your well-being while considering or waiting for spinal surgery, it is not intended to replace professional medical care or provide medical advice. If you have any questions about the information given, please ask your doctor, who is the only one qualified to diagnose and treat your pain and spinal condition.
If you have any questions about Barricaid, you may ask your doctor. For additional information, please visit www.barricaid.com. For complete risk-benefit information: www.barricaid.com/instructions-for-use.
References:
1 "Herniated Lumbar Disc," Know Your Back, North American Spine Society, accessed May 17, 2020, https://www.spine.org/KnowYourBack/Conditions/Degenerative-Conditions/Herniated-Lumbar-Disc.
2 David Davis, Kushagra Maini, and Arvind Vasudevan, "Sciatica," StatPearls, U.S. National Library of Medicine, 2020, https://www.ncbi.nlm.nih.gov/books/NBK507908/.
3 Anfeng Xiang et al. "Immediate relief of herniated lumbar disc-related sciatica by ankle acupuncture: A study protocol for a randomized controlled clinical trial," Medicine 96, vol.. 51 (2017), doi: 10.1097/MD.0000000000009191.
4 "Slipped disc: Non-surgical treatment options." Informed Health, IQWiG, 2020, https://www.ncbi.nlm.nih.gov/pmc/articles/PMC5758163/.
5 "Back Exercises in Fifteen Minutes a Day," Mayo Clinic, May 3, 2016, https://www.mayoclinic.org/healthy-lifestyle/adult-health/multimedia/back-pain/sls-20076265?s=4.
6 Michael Reid, "Exercises to Avoid with a Lumbar Herniation," Spine Health, Veritas Health, 2016, https://www.spine-health.com/blog/exercises-avoid-lumbar-herniation.
7 Michael A. Schroeder, "Could Quitting Smoking Help Relieve Your Back Pain?" U.S. News & World Report online, May 2, 2019, https://health.usnews.com/health-care/patient-advice/articles/smoking-and-chronic-back-pain.
8 "Slipped disc: Non-surgical treatment options." Informed Health, IQWiG, 2020, https://www.ncbi.nlm.nih.gov/pmc/articles/PMC5758163/.
9 Sokunbi Ganiyu and Kachalla Gujba, "Effects of Acupuncture, Core-stability Exercises, and Treadmill Walking Exercises in Treating a Patient with Postsurgical Lumbar Disc Herniation: A Clinical Case Report," Journal Of Acupuncture And Meridian Studies 8, no. 1 (2015), doi: 10.1016/j.jams.2014.08.002.