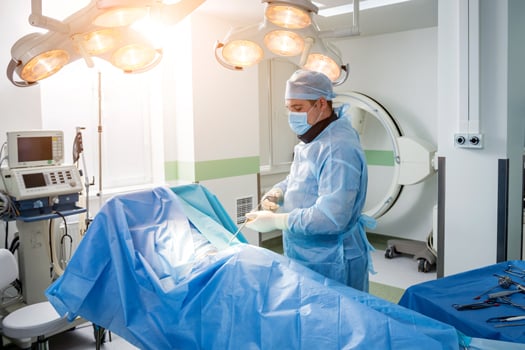 The main goal of discectomy surgery is to access the affected spinal disc as effectively and safely as possible. For this reason, it is important for the patient to be in a position that is going to be both comfortable for the patient and beneficial for the surgeon. This article provides details about what position is often recommended for discectomy surgery.

Lower Back Discectomy

The most common location for a discectomy is the lower back area, as this is where most herniations occur. In this case, the patient will be lying face down, since a discectomy is performed from the back. The only reason to approach a spinal disc from the side is if a certain type of spinal fusion surgery will be performed along with the discectomy. However, it is rare to have both surgeries performed together, since an effort is made to preserve as much of the spinal disc as possible.

Performing the Discectomy

General anesthesia will be used once you are in a comfortable position on your stomach. You will soon be unconscious on the surgical table, and efforts will be made to keep you as comfortable as possible. The surgery itself usually involves either a longer incision or a smaller incision if you have a less invasive microdiscectomy. Disc material that is irritating or compressing a nearby nerve root is then removed.

Preparing for Your Discectomy

To prepare for the discectomy as best you can, start by getting a good night's sleep so you will be well rested for your surgery. If you have difficulty sleeping in certain positions until you have your surgery, sleep on your side or use pillows for support. You may also need to adjust your sleep position during your discectomy recovery. You will also need to be careful with your position when you sit for work and drive post-surgery. The following preparations for discectomy surgery can be helpful:

• Talking to your doctor or spinal surgeon ahead of time so you will know what to expect
• Preparing your home (e.g., placing frequently used items on lower shelves, setting up a temporary sleep area downstairs)
• Eating healthy so you will be able to heal and recover more productively after your surgery

Although discectomy surgery is generally a very successful procedure, patients with a larger hole in the outer ring of the disc have a significantly higher risk of reherniation following surgery. Often, the surgeon will not know the size of the hole until he or she begins surgery. A new treatment, Barricaid, which is a bone-anchored device proven to reduce reherniations, was specifically designed to close the large hole often left in the spinal disc after discectomy. This treatment is done immediately following the discectomy—during the same operation—and does not require any additional incisions or time in the hospital. In a large-scale study, 95 percent of Barricaid patients did not undergo a reoperation due to reherniation in the 2-year study timeframe.
If you have any questions about the Barricaid treatment or how to get access to Barricaid, ask your doctor or contact us at 844-288-7474.
For full benefit/risk information, please visit: https://www.barricaid.com/instructions.