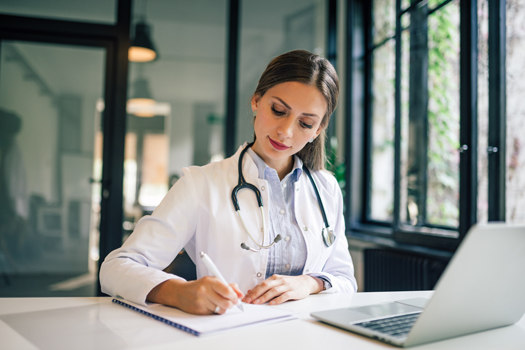 Often recommended only when other treatments are not effective, a discectomy is a specialized back surgery procedure requiring expert knowledge of spinal discs and nerves. For this reason, there are certain types of doctors who typically perform discectomies to remove protruding disc material. This article offers information about doctors who commonly help patients benefit from the surgical relief of nerve pressure caused by a herniated spinal disc.

Orthopedic Surgeon

An orthopedic surgeon specializes in the treatment of conditions or structural defects affecting muscles, joints, and bones—referred to as the musculoskeletal system. These doctors often specialize in specific areas of the body. In this instance, an orthopedic spine surgeon who primarily treats patients with spine-related injuries or symptoms would perform the discectomy.

Neurosurgeon

A neurosurgeon is a doctor specializing in the treatment of conditions affecting the nervous system. The nervous system primarily includes the brain and spinal cord, which are connected. This is why a neurosurgeon may perform a discectomy if the herniated disc is affecting a nerve originating from the spine or adjacent to it.

How These Doctors Treat Spinal Disc Patients

Simply being referred to an orthopedic surgeon or neurosurgeon does not mean a discectomy or less invasive microdiscectomy will be your only option. Unless the symptoms are severe or potentially life-threatening, you may be advised to try other nonsurgical treatments before surgery is recommended. In some instances, these doctors are able to provide more accurate diagnoses that improve the results from nonsurgical remedies.

Why Specialized Doctors Perform Discectomies

The human spine is more complex than most people realize, and this is why it is common for patients with disc-related issues to be referred to one of the specialized doctors mentioned above for surgery. This usually happens after a primary care physician suspects a disc-related problem. Also, orthopedic surgeons and neurosurgeons who specialize in treating spine patients are often familiar with the latest procedures and techniques. Having access to these capabilities and skills benefits patients by:

• Reducing surgery-related risks
• Improving the accuracy of the procedure
• Shortening the recovery time if minimally invasive techniques are used
• Increasing the odds of enjoying long-term relief and positive results

Meeting with a Spine Specialist

After being referred to an orthopedic or neurological spine surgeon, the patient will have an initial meeting with the doctor. This is when the patient is able to ask questions and learn more about how the affected disc is damaged and why a discectomy is a possible treatment option. Get the most from your initial meeting with a surgeon specializing in spine-related care by taking the time to:

• Discuss your preferences
• Learn more about how a discectomy is performed
• Determine if there are other nonsurgical treatments you have not explored yet
• Clarify your expectations with a discectomy
• Learn more about what to expect with follow-up care and recovery

Although discectomy surgery is generally a very successful procedure, patients with a larger hole in the outer ring of the disc have a significantly higher risk of reherniation following surgery. Often, the surgeon will not know the size of the hole until he or she begins surgery. A new treatment, Barricaid, which is a bone-anchored device proven to reduce reherniations, was specifically designed to close the large hole often left in the spinal disc after discectomy. This treatment is done immediately following the discectomy—during the same operation—and does not require any additional incisions or time in the hospital. In a large-scale study, 95 percent of Barricaid patients did not undergo a reoperation due to reherniation in the 2-year study timeframe.
If you have any questions about the Barricaid treatment or how to get access to Barricaid, ask your doctor or contact us at 844-288-7474.
For full benefit/risk information, please visit: https://www.barricaid.com/instructions.