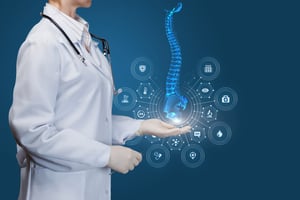 Medical technology is forever evolving. Modern innovations and technological advancements are transforming the healthcare industry, introducing new, more effective ways of treating patients and performing procedures—and spine surgery is no exception.
With that said, there are safeguards in place to make sure treatments are safe, suitable, and medically necessary for each patient's individual circumstances. In this article, we'll break down the medical device approval process, plus examine how care providers are reimbursed when they use emerging technology.
What's the approval process for new medical devices?
In the United States, the Food and Drug Administration (FDA) is responsible for determining the safety and effectiveness of medical devices before they are even allowed on the market. Gaining approval requires successful completion of an in-depth process that can go on for many years. Medical devices are categorized into one of three regulatory classes: Class I, Class II, or Class III.
Manufacturers seeking approval of a new medical device for spine surgery (or any medical procedure, for that matter) must either submit a Premarket Approval Application (PMA) or apply for a 510(k) clearance:
Class I and most Class II devices are generally lower-risk devices and only need to show "substantial equivalence" to another product already on the market, which is typically demonstrated through non-human lab testing. This is referred to as 510(k) "clearance," named after Section 510(k) of the Food, Drug and Cosmetic Act.
A Class III device is defined as "one that supports or sustains human life or is of substantial importance in preventing impairment of human health or presents a potential, unreasonable risk of illness or injury." Class III devices are also the most regulated of the three classifications, and the only group (along with some Class II devices) that requires all medical devices to complete a large and persuasive clinical trial and to undergo PMA review by the FDA.
An approved PMA is essentially a private license granted to applicants for marketing a specific medical device. Premarket approval by FDA is the required scientific review to ensure the safety and effectiveness of Class III devices. In this article, we discuss Barricaid, an implant used during spine surgery, as an example of a PMA-approved technology —meaning it had to go through a more rigorous process than most spinal implants to gain market approval.
How are surgeons reimbursed for emerging technology?
Once a surgeon and care facility determine that they would like to utilize emerging technology, they're tasked with identifying the appropriate route to reimbursement. Insurance companies need to establish medical necessity for each patient, which can lead to complex, time-consuming prior authorization processes. As such, reimbursement is often a struggle for providers, who face insurance company denials and potential appeals.
Plus, submitting for insurance reimbursement can be even more involved when surgeons use a newly approved treatment or device the insurance company isn't familiar with. By submitting a prior authorization request before surgery, the surgeon is essentially asking the insurance company to agree to cover the case, including the use of any new, innovative technologies, before moving forward.
Recognizing insurance coverage concerns as potential barriers, some medical device companies have advocacy programs in place to address these challenges. Intrinsic Therapeutics, manufacturer of Barricaid, is one of them. Once your physician determines that a discectomy with the Barricaid device is the best treatment for your herniated lumbar disc, securing prior authorization and payment approval from your insurance company is the next step.
The Barricaid Patient Advocacy Program provides surgeon office and patient support for prior authorization to streamline processes and increase access to better spine surgery outcomes in certain patients. A patient advocacy team can help you and your physician:
Obtain necessary documents for prior authorization approval
Provide education to inform insurance companies about the treatment or device
Navigate the internal and external appeals, should they be necessary
Submit a letter to demonstrate medical necessity for the patient
Track and move appeals forward in a timely manner to meet deadlines
Provide medical staff with billing codes and reimbursement information
If your physician recommends an emerging procedure as the best treatment option for you, the Patient Advocacy Program can help you and your surgeon navigate the prior authorization and appeals process (as needed). If you're a candidate for the Barricaid treatment option, contact us to learn more about the Barricaid Patient Advocacy Program and how it can support you and your physician as you prepare for spine surgery.
While this blog is meant to provide you with information you need to make an informed decision about your treatment options, it is not intended to replace professional medical care or provide medical advice. If you have any questions about the Barricaid, please call or see your doctor, who is the only one qualified to diagnose and treat your spinal condition. As with any surgical procedure, you should select a doctor who is experienced in performing the specific surgery that you are considering.
If you have any questions about the Barricaid, you may ask your doctor. For additional information, please visit www.barricaid.com. For complete risk-benefit information: www.barricaid.com/instructions.
Healthcare providers are solely responsible for reporting the codes that accurately describe the services provided to a particular patient as well as the patient's medical condition or diagnosis. Providers should follow payor-specific billing and coding requirements and contact the payor if they have questions. Note that the existence of a code for a procedure does not guarantee coverage or payment. Payment rates to individual providers will vary based on geographic location and other provider-specific factors, including participation in various quality programs.

The information included herein is shared for educational purposes only and does not constitute legal advice. The information is based upon publicly available information. Providers are reminded that reimbursement is dynamic.
The Patient Advocacy Program is available to help patients understand their insurance benefits and navigate the prior authorization and appeals process, if needed. The information is general educational information and does not constitute any legal, financial or insurance advice. Intrinsic Therapeutics does not guarantee coverage or payment for any medical services or procedures. If you need detailed information regarding your insurance coverage, please contact your health care provider or your insurance company.