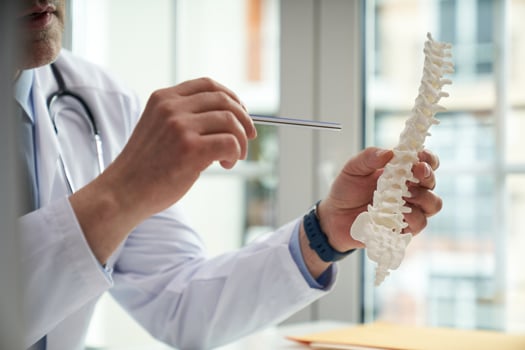 The goal of discectomy surgery is to preserve as much of the spinal disc as possible. Even so, there may be times when the spine becomes unstable enough to require a replacement for the disc that was partially removed. However, the entire disc may be removed if necessary. This article explains some of the possible replacement options for a spinal disc after a discectomy.

Nothing

There are times when nothing replaces a spinal disc after a discectomy. This is more likely to be the case if only enough disc material was removed to relieve nerve pressure. In this instance, the spine usually remains stable, which means there is no need for a replacement disc. The main drawback of leaving the remaining disc in place is the possibility of experiencing reherniation later.

A Synthetic (Artificial) Disc

The most common way to replace a disc after a discectomy is to insert a synthetic or artificial disc in place of the original disc that was removed. This type of disc is usually made of a combination of various metals and softer materials to mimic a real disc as much as possible. The artificial disc is inserted after the original disc is completely or partially removed.

Disc Replacement vs. Fusion Surgery

Another option when having a discectomy or less invasive microdiscectomy surgery is to perform a fusion at the same time. Fusion surgery joins vertebrae together to prevent excess movement. The spine is stabilized, although the patient may have some limited range of motion in the affected area. A major benefit of a fusion procedure following a discectomy is that nearby discs are also protected.

After having a disc replacement, there is no decrease in range of motion. In fact, range of motion and flexibility may increase, since the patient will no longer experience the pain he or she had before the discectomy. A disc replacement is also less invasive than a fusion procedure. Additionally, an artificial disc is designed to last, and it is not unusual for a replacement disc to remain in place for a lifetime.

Taking Care of Your Spine Post-Discectomy

Regardless of your results after having a discectomy, it is important to take care of your spine and its discs. If you have an artificial disc, watching what you eat and exercising regularly can help you return to your normal routines safely. If you had spinal fusion surgery, recovery will take a bit longer. Even so, you will still benefit from making positive lifestyle changes with how you sleep, what you eat, and how you exercise.

Even though discectomy surgery is a common and generally quite successful procedure, a hole is frequently left in the outer wall of the disc. In fact, patients with these large holes in their discs are more than twice as likely to reinjure themselves by having what is known as a reherniation. These reherniations often require additional surgery or even fusions. Fortunately, there is a new treatment specifically designed to close the large holes that are often left in spinal discs after discectomy surgery. Barricaid is a bone-anchored device proven to reduce reherniations, and 95 percent of Barricaid patients did not undergo a reoperation due to reherniation in a 2-year study timeframe. This treatment is done immediately following the discectomy—during the same operation—and does not require any additional incisions or time in the hospital.
If you have any questions about the Barricaid treatment or how to get access to Barricaid, ask your doctor or contact us at 844-288-7474.
For full benefit/risk information, please visit: https://www.barricaid.com/instructions.