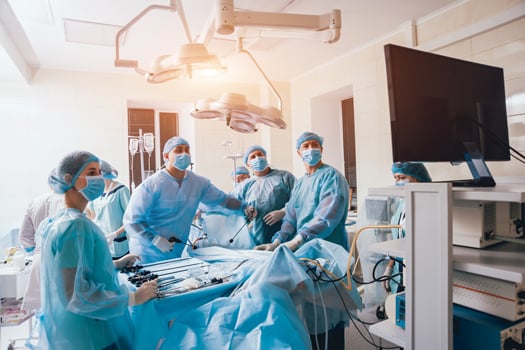 A recent article published in Becker's ASC Review, a prime source of news and analysis for leaders and decision makers in ambulatory surgery centers (ASCs) around the country, explains how Barricaid, the only FDA-approved annular closure device available today, can optimize discectomies in ASCs by minimizing the risk of reherniation and improving efficiency.
The article summarizes a discussion conducted during a workshop at Becker's ASC Review and Becker's Spine Review 19th Annual Spine, Orthopedic and Pain Management-Driven ASC Conference in June 2022. Panelists Dr. Betsy Grunch, a neurosurgeon, and Janet Carlson, MSN, BSN, RN, highlighted Barricaid's effectiveness at reducing the risk of reherniation for many of the 400,000 patients who undergo discectomies every year. Reherniation often occurs because of the size of the annular defect left in the disc post-surgery.
Citing their own experiences with Barricaid as well as the results of studies showing Barricaid can reduce reherniations by up to 81 percent, Grunch and Carlson praised the device as both extremely effective for avoiding reoperations and particularly well suited for use in ASCs because it is a minimally invasive technology that promotes faster recovery, facilitates surgeon efficiency, and does not require extensive staff training. In addition, because the cost of Barricaid is reimbursable (including for Medicare patients), ASCs are well positioned to improve cost containment by arranging managed care contracts with commercial payers and initiating direct-to-employer discussions as well as conversations around workers' compensation. Ms. Carlson characterized the use of Barricaid as "a triple win: a win for the patients, a win for the company, and a win for [ASCs] operationally."
One of the main concerns with discectomy surgery is the significant risk of reherniation—where the same disc herniates again through a hole left after surgery. In fact, patients with these large holes in their discs are more than twice as likely to reinjure themselves by experiencing what is known as a reherniation. Fortunately, Barricaid is a bone-anchored barrier designed to close these holes, and 95 percent of Barricaid patients didn't undergo a reoperation due to reherniation in a 2-year study timeframe. This treatment is done immediately following the discectomy—during the same operation—and does not require any additional incisions or time in the hospital.
If you have any questions about the Barricaid treatment or how to get access to Barricaid, ask your doctor or contact us at 844-288-7474.
For full benefit/risk information, please visit: https://www.barricaid.com/instructions.